SJS Endowment Campaign
Dear Benefactor,
As we prepare to celebrate the 70th Anniversary of Saint Joseph School we reflect on our school's legacy and our future. The certainty that times do, and will, change has presented great challenges to providing a quality Catholic education. The virtually free and dedicated labor force of nuns and brothers, long the hallmark of the system, is no longer a staple. Increasingly, the generation that followed of lay people, whose spouses often held more lucrative means of employment, has waned. These families have sought the need for dual employment outside the Church to ensure the affordability of a private education for their own children, and to prepare for the mounting cost of a higher education for their children.
"Whatever you do for the least of these, you do for Me."
~ Matthew 25:40
This presents a significant challenge to Catholic schools to continue to secure qualified, credentialed educators. The labor force available to Catholic Schools has changed, and with that change comes a heightened need for our schools to pay competitive wages to ensure an affordable Catholic education is available for this next generation (existing endowments provide one hundred thousand in financial aid to Catholic families each year).
The value of this education is unparalleled in the modern world; it is a tempered and true formula. Parents and the school work together to set high behavioral and academic expectations for students, while lifeaffirming relationships are forged in an environment that embraces high ethical standards, critical thinking, and the elements of education born from a staff with a deep conviction in their vocation.
While twenty-two percent of our nation's population is Catholic, we see a tremendous saturation of those educated in Catholic schools in highly professional fields including six of the nine Supreme Court Justices. We have a proven product of educating young men and women who make a difference in this world. Champions for our faith they embrace high ethical standards, a passionate love of learning, and possess a deep-seated respect for self and others.
99.1% of Catholic elementary graduates finish high school
85% graduate from college
92% of those go on to graduate school.
The John and Betty Fitzpatrick Endowment for the Benefit of St. Joseph School has been established to ensure the next 70 years are even brighter than the last 70 years. The funds are invested in Christian Brothers Investment Services. Informed by the founding documents, an endowment committee comprised of the pastor, principal, and other stakeholders allocate accrued interest. All funds stay local and are solely for the benefit of Saint Joseph Catholic School.
To secure our community's future, our goal is raise an additional two million dollars. In concert with other endowments, this will allow the school to reach its full potential. To offer competitive wages, to modernize elements of the facility, and to update security. As endowment funds are allocated, our website will continue to be updated to illustrate how the funds are benefiting our children: saintjosephredding.org.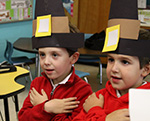 Our Church needs your help! Please consider the legacy our generation can leave to the next. Will it be a better education, a better Church, and more opportunity? Will it be the saddle of missed opportunity and debt? Let us build on our legacy in the "second seventy" years of Saint Joseph School. Please recognize the pivotal role a Catholic education plays in the nature of our children and of our Church. I pray you will join us.
Serviam,
Bill Koppes, Principal
Saint Joseph School, Est. 1946
Forging the Future for Another 70 Years and Beyond
2460 Gold Street
Redding, CA 96001
(530) 243 - 2302
bkoppes@sjsr.org